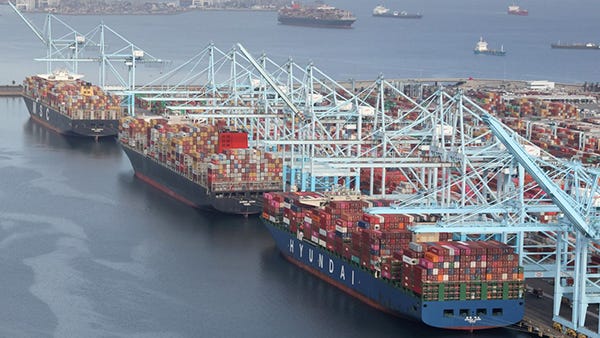 By now you've probably not only heard the term port congestion, you've gotten sick of hearing it. Unfortunately, it's still a reality and a Project44 analysis of the sailing schedules of various shipping lines indicates that cargo delays could last well into the summer. As the rebound in shipping volumes reached new highs in 2021, carriers found themselves contending with a growing number of impediments to schedule integrity. Port congestion was the primary cause distorting sailing schedules as ships wait to unload. On the U.S. West Coast, dwell times in April 2021 (measured from vessel arrival until container gate-out) continued to be lasting over a week. Last week, the Port of Los Angeles reported that it was making significant progress reducing the number of vessels waiting at anchorage for terminal space, but forecast that volumes will remain strong into the summer before an anticipated increase as retailers increase shipments to build inventories for sales in the fall and leading up to the holidays in December.
The impact of port congestion
Traffic jams at ports have triggered several kinds of problems:

Delayed sailings: When vessels sit at anchor waiting for berths, or when they spend extra days in port for unloading and loading, they fall behind schedule. If a vessel is due to call other ports, congestion in Southern California could make it late for each of those calls. If Southern California is the last call in North America, the vessel could be late in crossing back to Asia.

Trucking delays: Piles of containers at a terminal mean long lines of truckers trying to get into the port, increasing delivery times and reducing the number of turns a trucker makes in day.

Chassis shortages: There just aren't enough truck chassis to transport all the containers that need to move in and out of US ports, especially on the West Coast. Most US truckers rent their chassis from chassis pools. When those pools run dry, truckers have nowhere to turn for equipment. A carrier that can't get a chassis can't provide the service we need.

These problems, in turn, can cause more of grief:

We pay more for freight: Just as ocean freight rates have increased in recent months, rates for draying containers to and from congested ports have gone up, too. It's a simple matter of supply and demand.
Our inventory delivery is delayed: Stock deliveries take longer and delivery times are uncertain so it's difficult to tell you exactly when we can ship your orders.
And here's where it impacts you...

Your delivery is late: And no wonder. With sailings running behind schedule, containers crawling in and out of ports, and chassis hard to come by, it seems like the whole world is conspiring to put your delivery behind schedule.
Prices may be impacted on import items: We are doing everything we can to reduce this impact on you, but we are running a business and we have to be able to pay our bills even when our costs go up.
Fittings Unlimited is dedicated to excellent and informed Customer Service and we will provide information and updates at every stage of this issue. When we get better delivery estimates we will pass them on to you. And, when we have a better understanding of the impact these extra expenses will have on you, we will provide that information to you.
We know you have choices when it comes to hydraulic fittings and adapters and we appreciate your business!!